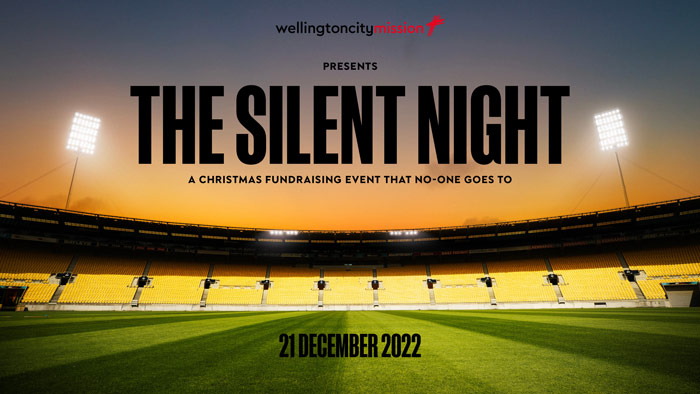 WELLINGTON, Today: Special Wellington has created The Silent Night – a Christmas fundraising initiative for the Wellington City Mission that aims to sell out Sky Stadium with an event that no one will attend.
Developed in conjunction with Special PR and media agency OMD, the fundraiser is in response to Wellington City Mission experiencing a fourfold increase in demand for services when compared to pre-Covid levels, leading the team to predict that there will be a spike in demand this Christmas as New Zealanders grapple with the cost-of-living crisis.
To help generate emergency fundraising for this time of great difficulty for many, Special Wellington will stage The Silent Night, a crowd-less public event generously hosted by Sky Stadium on Wednesday 21 December 21.
It is hoped the stadium will be a sell-out, with 34,000 absent ticket holders showing their support for Wellington City Mission through this unique non-event – allowing 100% of ticket revenue to go to the charity.
OMD brokered "incredible" pro-bono support from a host of companies including Go Media, Google, Lumo, Mediaworks, Metservice, NZME, oOH!, Phantom, Shout, Sky, Stuff, Teads, Trade Me, TVNZ, Val Morgan, Warner Bros. Discovery and Yahoo.
Also supporting the campaign are Sky Stadium, Lowe & Co Realty and Ticketek.
Special PR orchestrated an earned campaign across media relations and influencer marketing that has seen stories land on the front page of The Dominion Post, as well as AM, New Zealand Herald, Newshub, Stuff.co.nz, RNZ, Newstalk ZB, The Breeze and The Hits.
---
"We have been blown away by the support from Special, OMD, Sky, Lowe&Co and countless others."
---
Murray Edridge, Wellington City Missioner, said: "We have been blown away by the support we have been given by Special, OMD, Sky, Lowe&Co Realty and countless others.
"Their creative thinking and tireless energy is second to none, and we have been really impressed with the results already.
"We are living in a time of extraordinary difficulty and The Silent Night provides the perfect platform for the community to come together to raise important funds to help our fellow Wellingtonians by buying a ticket and not attending."
All funds go towards initiatives including supported transitional housing, as well as food support through the Social Supermarket, which enables clients to choose the food they need.
At Christmas, the Wellington City Mission operates a free toy store enabling parents to choose a gift for their children as well as providing a festive lunch for those in transitional housing and offering food deliveries so people can celebrate in their own homes.
Special Wellington head of strategy Bethany Omeri said: "A lot of fundraising initiatives rely on some sort of return on your donation – whether it's merchandise or an experience.
"And the actual amount received by a charity can be eaten away at by the cost of producing or organising these things.
"But we're hoping that in a place like Wellington, where the generosity of those who call it home is second to none, that we can sell out the stadium for a non-event that ensures every single dollar donated can be used to do good."
Tickets in the bowl start at $10 for bronze level, with $20 (silver), $50 (gold) and $100 (platinum) as well as corporate packages priced at $175 (individual) and $2000 (box).

CREDITS
Client: Wellington City Mission
Creative Agency: Special Wellington
Media Agency: OMD
PR Agency: Special PR
---