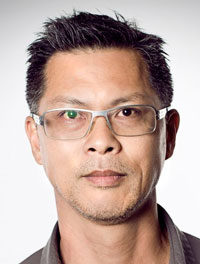 FCB's Asia Pacific ECD James Mok is a guest speaker at the upcoming Spikes Asia Festival of Creativity in Singapore.
Mok will join FCB's Worldwide CEO Carter Murray to discuss "exploring how transformative change can be achieved by unleashing potential in creativity, brands and consumers".
Other speakers include Sagmeister & Walsh CD Stefan Sagmeister (explore the possibilities to achieve happiness as a designer); Isobar CEO Jean Lin looks at bringing innovation principles to marketing; and Droga5 New York Chief Creative OfficerTed Royer (who will speak on the partnership between agency and marketer and how the rules of relationships can be applied to advertising).
Seminars include DDB Presents with Casey Neistat, writer, director, editor and filmmaker; DDB Global CCO Amir Kassaei will provide his point of view on how the power of influence can change the way people think, behave and purchase. And global digital companies – including Twitter, Google and Youtube will also take to the stage.
With a focus on the region and sharing insights on how to resonate with Chinese audiences, Longyin Review will present a session on 'Touching the Hearts of a Billion Chinese'. Jimmy Lam, vice chairman & chief creative officer, DDB Group, North China; Tomaz Mok , chairman, McCann China; and Norman Tan, chairman & chief creative officer, Lowe China, will use their accumulated decades' worth of experience to share their insights on how to tap into a country that has such vast geographic, culinary and dialect differences.
Continuing with the theme of culture, Cheil will turn their attention to India; another country where language and culture change every few hundred kilometres. 'Communicating to Two and a Half Indians' will see Nima DT Namchu, chief creative officer of Cheil India, discussing whether it's possible to be creative in both communication and technology.
"With 40 seminars taking place, Spikes Asia is the essential destination for anyone in the industry wanting to stay ahead of the game," says festival director Andrea Hayes. "This region is culturally diverse and complex and Spikes Asia offers a unique platform to learn, test and develop ideas through our unmissable regional and global speaker line up, masterclasses and networking opportunities."
Spikes Asia runs from Tuesday 23 September to Friday 26 September at Suntec Singapore. registrations to attend the event are now open and anyone wishing to book their place can do so through www.spikes.asia.
KEY DATES
Delegate Registration: open
Entries: open
Extended Entries Deadline: 8 August
Spikes Asia Festival Dates: 23-26 September, Suntec, Singapore
---