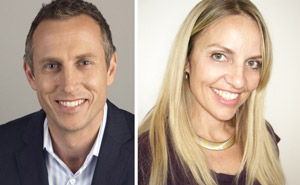 The Radio Network has collaborated with APN to create an 'Auckland only' music radio station, Mix98.2, out of the ashes of Radio Sport (which has been sent packing back to its old low-fi AM frequency).
"We have identified a market opportunity in Auckland for a music station that specifically targets 40-54 year olds," said TRN chief content officer Dean Buchanan in a PR release.
"Mix98.2 has been created based on these consumer and commercial insights."
Mix98.2 will combine "the very best music from the 80's and 90's together with fashion, style, food, dining out, wellness, entertainment and all things Auckland", Buchanan said.
APN Media ceo Jane Hastings says this is not "just about a new radio station". "The content will be generated via collaboration of a new team between TRN and the APN talent who lead VIVA, Bite and Canvas to name a few.
"This will extend to advertising opportunities," she said. "With APNs recent acquisition of 100% ownership of TRN, the new leadership team has been looking at effective ways to leverage the content rich business to grow audiences for advertisers wanting to reach savvy women with control of the household purse strings.
"An Auckland-only station shows our commitment to the largest city in New Zealand."
"This APN Group collaboration is all about growing brands that engage with motivated readers in stimulating and dynamic ways," said Viva editor Amanda Linnell.
"The radio platform allows us to take our lifestyle content – the best of fashion, design, eating out, and culture – to another exciting level as we expand stories and engage with those people who love to live life well."
Former freelance presenter/emcee Melanie Homer will host the radio show weekdays from 8am-noon – she will be the only presenter on Mix98.2 with music the star for the rest of the day, Buchanan said.
"There are enough talk-intensive Breakfast and Drive shows in Auckland and we have intentionally chosen to focus on more music at this time of the day to differentiate."
"We recognise the strength of the Auckland Radio Sport audience via iHeartRadio and we will introduce a new Radio Sport stream called Radio Sport Omnibus," Buchanan said. "In addition, Radio Sport Extras will be added to Newstalk ZB," says Buchanan.
"We know that those who love sport will find the frequency and are highly engaged online streaming users. This change makes sure no one is missing out."
Buchanan is confident that between Mix98.2, The Hits and ZM, that TRN has a comprehensive portfolio of brands dedicated to the critical 25-54 audience. Mix98.2 will also be available on iHeartRadio and have an online presence at www.mix982.co.nz.
---