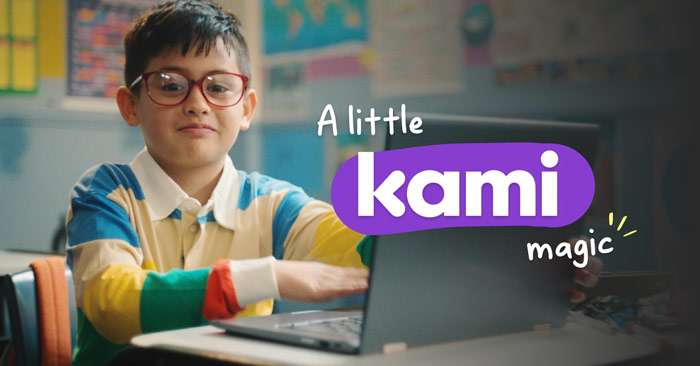 AUCKLAND, Thursday: Ed-tech platform, founded in NZ in 2013, has launched a global brand campaign, A Little Kami Magic, which spotlights its ability to make classrooms engaged, personalised and efficient.
Kami worked with Grey Lynn creative agency String Theory, NZ production company Supernormal and Wellington media agency Atlas Digital, to bring it to life.
Kami claims 40 million users worldwide. The campaign was created entirely in Aotearoa, despite being destined for the US market.
Kami marketing vice-president Louis Esther said: "We intentionally leaned into our homegrown roots — from the strategic inception and creative development, to the sourcing of local talent and on-site filming at Mt Albert Grammar School in Auckland. 
"Working with an incredibly talented team of small but mighty local agency partners, we're proud to bring the best of New Zealand's creative production and marketing to the world stage.
"Building upon the success of our first major brand campaign last year, we're showing how Kami is the all-in-one classroom sidekick to the heroes – our teachers.
"Tasked with speaking to stressed and under-resourced teachers working with uninspired and unengaged students, the campaign strategy highlights Kami's brand ambition of making both teaching and learning more fun and enjoyable, captured by the idea of adding a little Kami magic to the classroom."
---
"Going beyond the usual formula of a 30s video with cutdowns, the campaign creative is delivered in six different 15s video shorts."
---
String Theory brand navigator Dr Jane Cherrington said: "It was clear that Kami transforms processes for teachers, but the real Kami magic is that it transforms the learning process for the students as well.
"Recognising that vital duality of experience allowed us to create a whole new, very endearing conversation that enabled both sides of the platform's benefits to shine through.
"Going beyond the usual formula of a 30-second video with cutdowns, the campaign creative is delivered in six different 15-second video shorts. The digital rollout of these videos is strategically planned to engage the audience sequentially , showcasing the different benefits to teachers and students, as well as the versatility of the platform."
Louis Esther said: "The brand campaign has launched into the US, building on Kami's existing and significant traction in the market.
"Going beyond the early adopter segment, the campaign is set to bring the magic of Kami to a broader audience of teachers, increasing brand awareness and consideration amongst kindergarten to 12th grade educators across the country.
"The only New Zealand-based startup to be named as one of Time Magazine's 100 Most Influential Companies in 2022, Kami has been helping teachers and engaging students for over 10 years and is proud to be used by over 40 million users across 180 countries.
The A Little Kami Magic campaign will run from now until the end of October, covering the US back-to-school season, and will be deployed through digital channels including Meta, YouTube,  X (formerly Twitter), LinkedIn, Reddit, Google Search, Amazon, and TikTok.

CREDITS
Client: Kami
VP Marketing: Louis Esther
Head of Brand & Content: Gemma-Leigh Parry
Creative Director: Chinmayee Phalnikar

Creative Agency: String Theory
Executive Creative Director: Jeremy Taine
Brand Navigator: Dr Jane Cherrington

Production Company: Supernormal
Executive Producer: Matt McKenzie
Director: Laura Sargisson
Producer: Amanda Summersby
1st AD: Jordan Mauger
DOP: Mason Bennett
Art Director: Jon Lithgow

Offline: Archie Porter
Online: Stu Bedford
Colourist: Mikee Carpinter
Audio Post: Keegan Meiring

Media Agency: Atlas Digital
Head of Client Service: Steph Osborne
Head of Strategy and Performance: James LLoyd
Senior Growth Marketer: Justin Reti: Senior Growth Marketer
Senior Growth Marketer: Corey Harris
Senior Growth Marketer: Timothy Chen
About Kami
Kami was developed in Aotearoa by four university friends who wanted to make a difference. Ten years later, the platform has grown into a team of over 100.
---