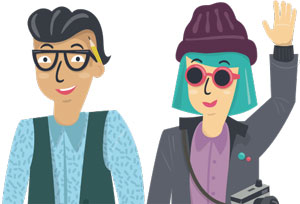 A new campaign by international education agency Education New Zealand aims to grow awareness of New Zealand as a study destination through a competition to invite a friend here for a study adventure. The campaign was produced in partnership with Touchcast, Clemenger BBDO and OMD.
"When you're far away from home, sometimes all you want to be able to do is show your friends just what studying and living in New Zealand is like – to have them right there beside you for a while," says ENZ general manager marketing & channel development Hannah Lee-Darboe.
"To help spread the word about New Zealand as a study destination we're offering a 10-day study adventure to the friends or family members of international students currently studying here."
Each year more than 90,000 international students study in New Zealand, making a major contribution to New Zealand's $2.85 billion international education industry.
Students visit studyin.nz to enter, and invite their friends to register their interest in visiting New Zealand.
"Countries the world over connect through communities and networks," Lee-Darboe said. "This campaign activates these channels and puts New Zealand on the radar of the friends and families of our international students."
Entries are open until midnight this Sunday (24 May), and the competition is open to international tertiary-level students in New Zealand. Five pairs will be shortlisted, with the winning pair selected and their itinerary built by audience vote. The study adventure will take place in July, subject to visa approval.
The campaign builds on the recently-announced partnership with the global networking organisation Kea.
"International education fosters global connections," said Lee-Darboe. "We're connecting New Zealand to the world through education, from studying through to graduation and beyond."
About Education New Zealand
Education New Zealand (ENZ) is the government's agency for international education marketing and business development. ENZ works to grow awareness of New Zealand as a study destination and to support New Zealand education providers and businesses exporting their services and products abroad.
---