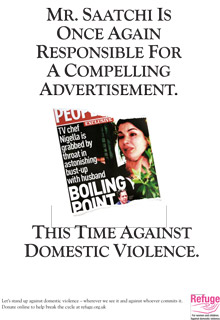 While most of adland was packing their matching set of Louis Vuitton luggage bound for the south of France to take things all too seriously, Sugar&Partners CDs Dave Nash & Damon O'Leary stormed London's satirical Chip Shop Awards.
S&P took home the Grand Prix, Best Charity Ad and Best Topical Ad awards with their press ad for Refuge London, Saatchi vs. Nigella.
The Chip Shop Awards – presided over by D&AD president Laura Jordan Bambach – are about fostering and recognising creativity – no boundaries, no rules.
"Damon & I are stoked," said Nash. "Real creativity and expression has no bounds and no rules, this is why we are honoured to be added to the esteemed list of brilliantly creative boys and girls who have been awarded the Grand Prix Chip Shop Award.
UK ad writer/blogger Dave Trott, a long time supporter of the awards, said: "Take the piss out of how seriously advertising takes itself. Take the piss out of advertising's obsession with awards. Take the piss out of a little yellow wooden pencil elevated to the level of The Nobel Prize.
"And the symbol of a chip with a dollop of ketchup on it does that very succinctly."
---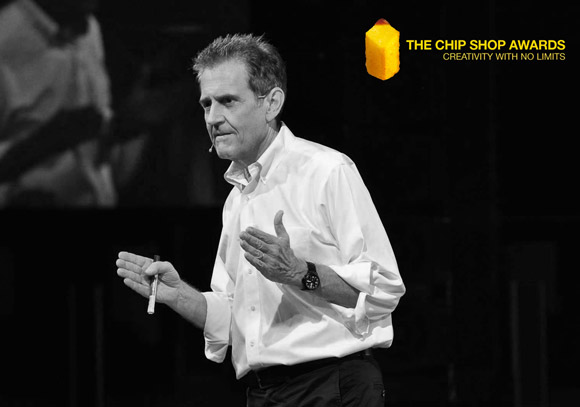 ---
SAATCHI VS NIGELLA CREDITS
CD/Creative: Dave Nash, Damon O'Leary
Head of Design: Hamish McArthur
The awards were broadcast live from the Ministry of Sound in London on Twitter:
twitter.com/ChipShopAwards
THE JUDGES
Laura Jordan Bambach President of D&AD chaired the judging panel of:
Executive Creative Director of WCRS and joint ECD of Engine: Leon Jaume
CEO at The Creative Circle: Jeremy Green
Executive Creative Director of Grey LDN: Nils Leonard
Additive: Dave Birss
Creative Director at Archibald Ingall Stretton: Richard Coggin
Creative Director at Smith & Milton: Steven Anderson
Executive Creative Director at gyro: Mike Shackle
Executive Creative Director at AKQA: Nick Turner
Creative Director at Saatchi & Saatchi: Tim Clegg
Creative Director at Iris Worldwide: Andy Taylor
Creative Director at SapientNitro: Ben Callis
Creative Director, Rose: Simon Elliott
Creative Johnny and ex Creative Director at Leo Burnett: John Jessup
Check out last year's awards wrap video:
---