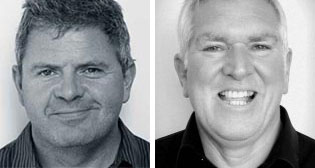 The Image Centre Group has swallowed The Collective, the small indie agency established by celebrated former Saatchi ECD Mike O'Sullivan when Droga5 NZ shut its doors in 2012.
"I'd never had my own business and when I set The Collective up, and I wasn't sure if it would work," O'Sullivan told the Image Centre-owned site Stoppress yesterday. "It did work and I've enjoyed it and I can keep doing it, but I'm really keen to learn some more stuff, specifically branded content. If this was an agency gig, I probably wouldn't do it. But there are so many fronts to the business."
O'Sullivan hasn't returned M+AD's phone calls and emails for three days. "He is actually taking a few days leave but will endeavour to get back to you when he is back," said The Collective's Jacqui Lockington. Yeah, right! We're still waiting, Mike!
O'Sullivan told Stoppress The Collective works with a number of different shops in Auckland and Australia and the relationship with ICG started around a year ago. Since then it has worked with a number of ICG clients, largely through retail agency arm Hotfoot. But he is also good friends and fishing buddies with ICG director and Colenso co-founder Roger MacDonnell, who he says gave him a job as ECD at Colenso when he was 31.
"If ICG clients need The Collective's services then we will work with them. If they don't, we won't," he said. "We will still be geographically independent [in its office in Grey Lynn]. And our client relationships won't be affected by this."
The wrong Mike O
The NBR did manage to run a report about the takeover – but the paper ran a photo of the 'other' Mike O'Sullivan – the one who's executive director at BrandWorld Auckland.
Brandworld immediately cleared the air. "Our Mike O'Sullivan is not leaving, nor has he sold himself to Image Centre," was their message. NBR online wasted no time and updated the image soon after.
"Somebody just did a really shoddy search job," an insider, who asked to remain anonymous, told M+AD. "If you search Mike O'Sullivan and The Collective on the Stoppress site, you don't get BrandWorld's Mike – so pretty slack journalism and PR all around from NBR and The Image Centre, especially as the Image Centre owns Marketing and Stoppress.
---