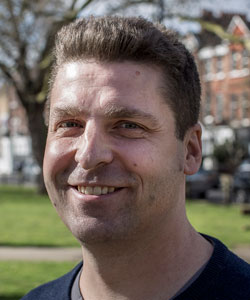 By Epica Awards editorial director Mark Tungate. Paris-based Epica is an informal global association of journalists who cover marketing and creativity. M+AD ed David Gapes was on the jury last year, and is again this year:
It's not easy to become truly great at advertising. But it may be a tiny bit easier when your first career experiences are at BBH and Abbott Mead Vickers. In fact, Mike Nicholson – the freshly-appointed ECD of Brave in London – has a CV that looks like a litany of the world's greatest agencies, plus the magic word "Google".
But we'll get to all that later. First I wanted to find out how Mike snagged a work experience gig at what, in the 1980s, was one of London's hippest agencies. "It was actually thanks to the careers advice programme run by my school," says Mike, who is uncommonly soft-spoken and modest for an ad man.
---
"My dad was an accountant, so the first thing they suggested was accountancy – but there was no way I wanted to do that. The next thing along was advertising, and they had a connection with BBH."
---
Sent there to do a week's work experience, he spent a short time in each department – including creative. "I didn't understand what the job was at the time. Earlier in the week I'd sat with the graphic designers, and I naively assumed they came up with the ideas too. But finally I met the copywriter Tom Hudson, who gave us a brief for Beefeater Gin. Obviously I didn't have a clue what I was doing. But I thought the whole experience was amazing. I'd always loved art and film, and I was looking for a creative job. So I saw the light at 16."
To pursue this new path he went to art college, studying graphics at Newham College in East London, followed by Central Saint Martins. This led to a spot at Abbott Mead Vickers under (then) deputy executive creative director Peter Souter. "He wanted to recruit junior teams, so in a way we were guinea pigs. It was daunting and amazing at the same time."
AMV was "basically a who's who of British advertising", so Mike has had many mentors. But he sets a special mention aside for the late Paul Arden, legendary Saatchi & Saatchi creative director and author of books such as It's Not How Good You Are, It's How Good You Want To Be.
"We did a notorious ad for Wrigley's called Dog Breath that got us on the map," Mike explains here.
Dog breath
"It was a fairly dramatic product demonstration that basically offended the entire dog-loving public of Great Britain." (The 2003 spot remains one of the most "complained about" ads of all time.)
Arden had set up the production company that represented the spot's directing team, Happy – and he loved the ad. "I got this amazing phone call from a bloke going, 'It's ****ing brilliant,' and so on. And this swearing person turned out to be Paul. When I met him he immediately began rummaging through my rucksack to see what I was up to."
It was the start of a friendship, as well as access to "an amazing creative mind".
After 14 years at Abbott Mead, Mike left, somewhat reluctantly, to seek a broader "global experience". The next stop was TBWA in London, but he had a yearning to work at smaller, independent agencies, as well as those with some digital credibility.
Hero worship
Inspired by chef Ollie Dabbous – who once wrote to all the greatest chefs in the world asking if he could work with them – he wrote handwritten letters to heroes and people he admired, asking if he could come and freelance in their office for a month or so. "They varied from traditional agencies to smaller digital shops – and Google."
Which is how his CV suddenly became longer, as he hopped from Adam&eveDBB in London, to Wieden & Kennedy in Amsterdam, back to London for W+K followed by The Viral Factory, over to France for M&C Saatchi and finally…well, finally the call from Google came through.
---
"My idea had been to go there on placement and learn. Instead they introduced me Toaster [one of Google's preferred suppliers, an independent digital agency that grew of Google Creative Lab] where I worked on a two-week project. I stayed there for 15 months, purely to understand and immerse myself in digital."
---
Toaster, he says, operated in a way that was the "polar opposite" to a traditional agency. As its name suggests, it was another baptism of fire. However, he missed working on integrated campaigns, especially the TV element, so he answered a call from The&Partnership in Canada. It had just won the huge Telus telecoms account and needed talent fast. He spent six months building the operation almost from scratch, which confirmed his enthusiasm for independent shops.
Which brings us, finally, to Brave, where he was invited on board by managing director Ash Bendelow. With an ambition to "create, craft and champion brave ideas", it looks to be a young and very modish agency. This holds no fear for Mike. "I really liked the fact that they're a small company who are doing really well but are not showy or headline grabbing. They're just getting on with the work."
So what's his mission there? "What I'm hoping is that within six months we can come up with some work that makes people say: 'Where did that come from? Brave? Oh – right!' I'd love to let the work speak for itself and attract new business and talent off the back of that."
Amid all the experience and travelling, his creative ethos has remained the same: simple, relevant and original. "The idea of creating something out of nothing, that nobody has seen before, and yet anchoring it to a brief, is pretty much what I'm about," he states. But because he's Mike, he precedes this with: "Without wishing to sound too egotistical."
---