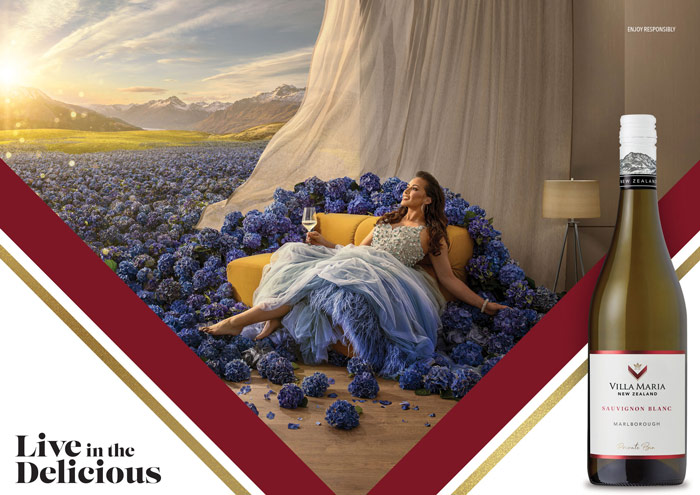 AUCKLAND, Wednesday: Villa Maria, working with Federation, this week launched its biggest global brand campaign, to recruit more wine lovers to its award-winning Marlborough sauvignon blanc.
Launching in the UK media and retailers this week, Live in the Delicious hits the market just ahead of the UK summer season, where Villa Maria continues to be the #1 New Zealand wine brand by value. The creative will also roll out in other key markets including the US, Australia and New Zealand.
Federation was appointed by Villa Maria owner Indevin Group NZ (HQ is in Hastings) in December to develop the platform.
Indevin Group global marketing/communications director Sarah Szegota said: "Creative and media agency reviews were undertaken ahead of developing a transformative new campaign that positions Villa Maria for future growth across our key markets. We appointed Federation following a competitive creative pitch and are delighted with the partnership between us.
"Following extensive creative development supported by qualitative consumer research, the new, fully-integrated campaign launches across out-of-home, social media and digital in the UK market, as well as in-store promotion and a comprehensive PR launch.
"As the biggest standalone Villa Maria campaign to date, Live in the Delicious will make the leading New Zealand brand impossible to miss in Britain this summer.
---
"We appointed Federation following a competitive creative pitch and are delighted with the partnership between us.''
---
"We identified an opportunity to strengthen our position in key markets with creative that resonates with our target consumers; people who are passionate about developing their knowledge of wine and looking for a rewarding experience every time they pour a glass."
Federation ceo Sharon Henderson said: "Villa Maria has been at the forefront of New Zealand's wine industry for over 60 years and is one of our most admired wine brands.
"We're honoured to partner with the world-class Indevin team on their evolutionary journey for such an iconic brand.'
Szegota said: Live in the Delicious is a bold evolution for Villa Maria. The insight from our research found 'me' time has become a luxury in the lives of our target consumer group.
"To 'Live in the Delicious' is to savour those delicious moments in life, and that includes a moment with our award-winning wines. We're thrilled with this campaign and anticipate strong results.
"As the British summer rolls in, and wine lovers are reaching for a refreshing and elegant glass of Marlborough Sauvignon Blanc, Villa Maria will be front of mind."
"With a rich history in the UK market and recently named the 20th most admired wine brand in the world by Drinks International, the campaign comes at a perfect time to build on Villa Maria's strong credentials in the UK and other major markets."

CREDITS
Client: Sarah Szegota, Indevin Group Global Marketing and Communications Director
Managing Partner: Olly Walker Boden
Agency: Federation
Photographer: Ross Brown
Visual Effects: Match Artists
Chief Creative Officer: Tony Clewett
Strategy Partner: Dan Bye
---