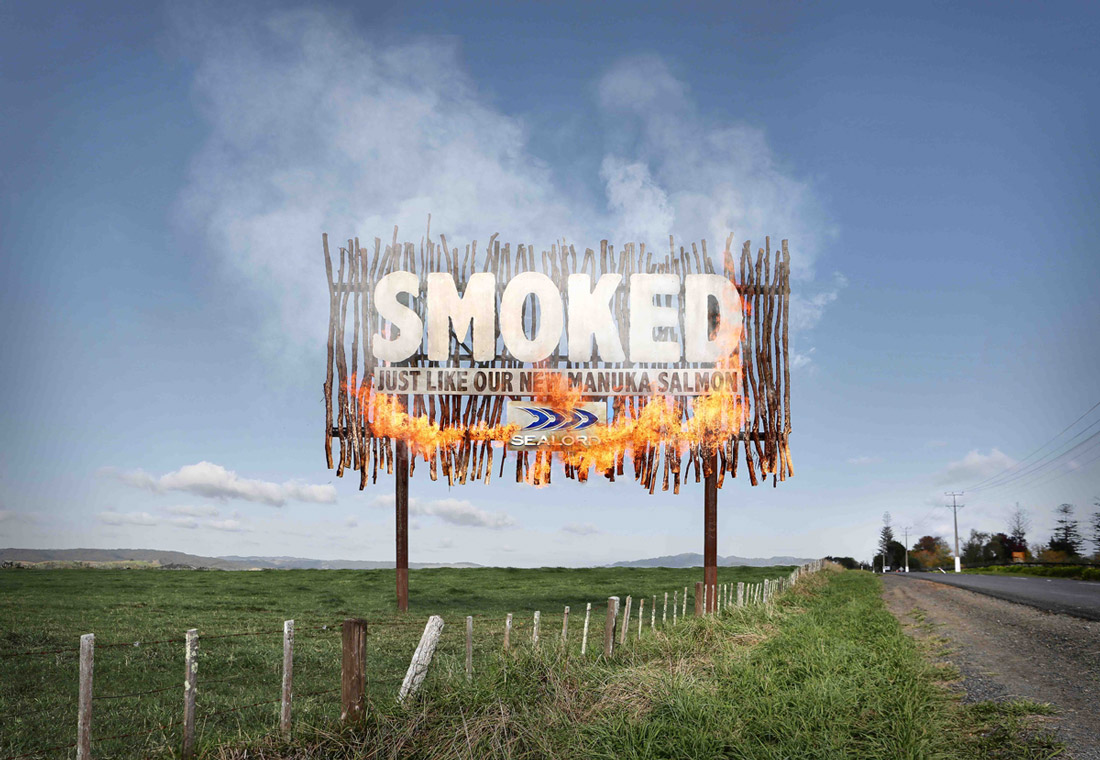 Saatchi & Saatchi set fire to a specially constructed billboard to launch Sealord's new range of hot smoked salmon.
The unique hoarding was constructed using real Manuka branches and later set ablaze on a private farm in Clevedon to replicate the traditional smokehouse process used by Sealord.
The salmon is produced by brothers Joe & Gavin Kouwenhoven who have been smoking seafood the old fashioned way in their kilns in West Auckland since 2000. It is the only nationally available traditionally smoked salmon range in the country.
"When we learned about the wonderful artisan techniques involved in the creation of this delicious salmon, we were inspired to try and find a way to make this process the hero," said Saatchi ECD Antonio Navas.
Sealord brand manager Melissa Semmens said: "We're very excited about this new product and equally, the unconventional way Saatchi & Saatchi has chosen to help us talk about it."
The now-charred billboard is in situ from this week on an APN Outdoor site at Ponsonby Central in Auckland. The campaign also includes an online film (view it at the top of this page) that captures the creation of the burning billboard, pre-rolls and digital banners.
Saatchi & Saatchi worked with Gyro and Gorgeous Films to create and capture the burn. All smoking was done in a controlled environment with safety crews on hand throughout.
CREDITS
Agency: Saatchi & Saatchi New Zealand
Client: Sealord – Melissa Semmens (Brand Manager, Chilled), Sarah Sandoval (Head of Marketing and Innovation)
Executive Creative Director: Antonio Navas
Creative Group Heads: Cory Bellringer, Matt Sellars
Senior Producer (Agency): Anna Kennedy
Designer: Rob Flynn
Planner: Sarah Hodgetts
Business Director: Shelley Winsor
Account Director: Katja Green
Production Company: Gorgeous Films
Director: Rowan Webb
Executive Producer: Edwina Monaghan
DOP: Kent Belcher
Editor/2nd Camera: Zac Blair
Billboard Construction: Gyro Constructivists
Sound Design: Franklin Road
Media planning and buying: Starcom – Matt Kum, Jesse Jones
Outdoor Media partner: APN Outdoor
---