Downtown Auckland public relations consultancy Wright Communications celebrated a decade in business by pitting its collective general knowledge against that of its clients and suppliers at a tongue-in-cheek quiz night earlier this week.
Founder and hands-on managing director Nikki Wright says it's great to be able to celebrate the milestone with such a range of longstanding, new and project clients and other supporters and reflect on how the business – and industry – has evolved over that time.
Scroll down to read more
---
"I started the business as a full service public relations consultancy but with a focus on corporate social responsibility [CSR], partly because I had a personal passion for it, but also because that was what businesses were beginning to prioritise," she says.
"I'm proud that we have continued to make our mark in this area – call it CSR, corporate citizenship or sustainability – by helping clients do better by integrating a more responsible approach to environmental and social wellbeing into their business strategies."
Over the last 10 years Wright Communications has worked with some of New Zealand's largest businesses on a variety of CSR projects, including some of the first sustainability reports produced in New Zealand, and stakeholder-led materiality assessments to guide strategic priorities.
Nikki Wright says she is grateful for the support of clients over the past decade, and delighted to have provided communications support to a wide range of organisations from New Zealand SMEs to multi-national companies, local government bodies and charitable organisations.
---
"PR is a tough industry and we particularly value the longevity of our relationships with clients" she says. "We are a family business – my husband Aaron Wainhouse is a director – and that mentality extends to include not only our staff but our clients, suppliers and contacts.
---
"Our longest-running client relationship is with Toyota New Zealand, which has been with Wright Communications almost from the very beginning. We have several other long-term client relationships, including with global expat network Kea and market research firm Colmar Brunton.
It's not just about the clients though. Wright also judges the success of Wright Communications on how well the work-life balance of her team has been achieved. Flexibility is becoming more important and striking the right balance makes for happier, healthier and more productive people.
"It's amazing to be able to work in this evolving industry in a city we love, on communications that matter, and with such an impressive team to share the experience with each day," she says.
Ever the realist though, Wright says that there have been some valuable lessons learned over the last 10 years …
As soon as you can afford to, hire more senior practitioners to ensure quality control for clients
Niche is critical – focusing on our CSR position sets us apart and has opened the door to more companies
Defining your scope as a managing director is important to ensure you strike the balance between overseeing and doing
You can never be too genuinely enthusiastic about your clients' products and services
Finally, good things happen to people that take an interest in others, so pay it forward.
As for what's to come in the next 10, Wright shares a few thoughts for emerging public relations practitioners …
Be the 'black hat' in the room and represent the voice of the customer
Combine small and big data to deliver the best insights
Retain your position as a consultant / professional service
Build a reputation with the customer…knowing who they are is critical
Customer-centricity is key
PR's role in long-term customer engagement – provide the tail to campaigns
Aim to be known for the business problems you have helped solve.
---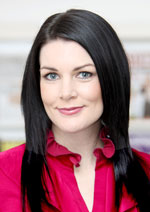 About Nikki Wright
Nikki Wright founded full service public relations company Wright Communications at only 28-years-old. She has more than 18 years' experience in public relations and has worked with some of New Zealand's biggest and most successful companies providing strategic advice and communications support. She is also an award-winning public relations practitioner, and one of New Zealand's leading experts on corporate social responsibility. A North Shore resident who revels in a fast-paced lifestyle, not only is she a managing director, but Mum to two small daughters.
---