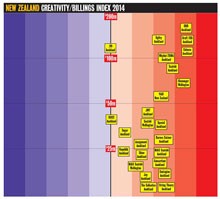 Campaign Brief has announced the entry call for its Agency of the Year competition, including Australian AoY and NZ AoY. Also up for a refresh is CB's 2015 Creativity/Billings Index (or Hot+Cold Chart).
It's free to enter, and you're asked to provide all your best work on a USB stick, listing highlights of the year (including all awards won in 2014), new people, plus accounts won and lost, plus number of staff (or billings if you can) in a separate doco.
Include only work that has run between 1 January 1 and 31 December 2014. The deadline is Wednesday 17 December.
"Even if you feel it's not your year, please send us your best as it is vital to work out where your agency fits on the 2015 CB Creativity/Billings Index," says ed Michael Lynch.
Make sure your package arrives at CB prior to 12 noon Wednesday 17 December, 2014.
Address packages to:
Campaign Brief
5 Barrett Street
BURRAWANG
NSW2577
AUSTRALIA
HONOUR ROLL: CB NZ AGENCY OF THE YEAR
1999: Colenso BBDO Auckland
2000: Saatchi & Saatchi NZ
2001: Colenso BBDO Auckland
2002: Colenso BBDO Auckland
2003: DDB New Zealand
2004: Publicis Mojo Auckland
2005: Saatchi & Saatchi NZ
2006: Saatchi & Saatchi NZ
2007: DDB New Zealand
2008: Colenso BBDO Auckland
2009: DDB New Zealand
2010: DDB New Zealand and Colenso BBDO Auckland
2011: DDB New Zealand
2012: Colenso BBDO Auckland
2013: FCB New Zealand
To advertise in this issue, contact mollie@campaignbrief.com. And think about reinforcing your campaign with an ad run simultaneously in M+AD (contact Kelly Lucas at ads@mad-daily.co.nz.
More info at www.campaignbrief.com.au.
---