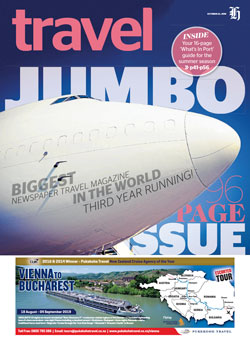 AUCKLAND, Today: The New Zealand Herald's ubiquitous Travel magazine has today produced the biggest issue the team has produced since the section was first published 20 years ago.
Today's issue is at a record size of 96 pages, beating its previous 80-page best this time last year.
Travel editor Winston Aldworth said: "The bumper issue covers everything from amazing food in Iran to local culture in New Caledonia, river cruising in Europe, and gorillas in Rwanda.
"It also pulls in some travel experts; Greg Johnson shares a guide to Los Angeles, Jude Dobson takes on San Francisco and Jesse Mulligan reveals the best meal of his life.
"There is something for all lifestyles," he said. "This has come about because of terrific support from advertisers and interest from readers. Our Tuesday Travel magazine has had four consecutive quarters of readership growth year on year."
Travel is published on Tuesday and Sunday and now reaches 356,000 people across the week.
---