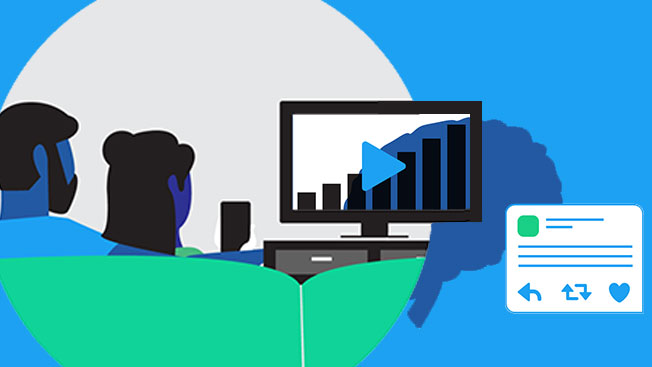 When a high percentage of tweets about a TV show contain emotional reactions, TV viewers are 48% more likely to recall an ad than viewers who watch shows that trigger less of an emotion response, a new global study has revealed.
That is one of the key findings from research (published by UK site Warc) that Twitter conducted with media agency Starcom and Canvs, a New York-based social TV analytics firm, to measure how programming influences viewers' emotions as tracked by tweets.
The research focused on 3536 Twitter and non-Twitter users who viewed the same episode of a TV programme. They were then asked the next day about their emotional response to the show, their Twitter activity (if any), advertisers they recalled and how favourably they reacted to brands after watching their ads.
It found that people who used Twitter, whether actively tweeting or just following along, were 62% more likely to recall the brands which advertised during the show than those who did not use Twitter.
This prompted Twitter to advise advertisers to synchronise their ads with Promoted Tweets to reinforce their message, claiming that TV advertisers who run concurrent Twitter ad campaigns experienced an average 9% in ad recall.
And in another finding about the connection between emotional investment in a TV programme and ad recall, the report claimed that those viewers who actively tweeted during a show – such as tweeting "like", "hate" and "excited" – were three times more likely to recall advertisers than those who just said they were watching.
Furthermore, 61% of TV viewers who reacted emotionally said they were more likely to purchase from the advertiser.
"This research shows that audiences who are emotionally invested in a TV show are more responsive to both TV advertising and corresponding Twitter advertising—finally dismissing the nagging notion of the distracted social viewer," said Kate Sirkin, Starcom's Chicago-based global director of audience & measurement.
"Social and emotional TV data combined help illustrate the value of emotional engagement for brands beyond a single impression on either screen," she says. "This can be done with Twitter TV targeting, which lets brands build cross-screen frequency with people who are engaging with shows on Twitter."
The research comes as eMarketer reported that it expects Twitter to generate US$2.61 billion in global ad revenues this year, with 90% of the total coming from mobile.
However, this is a downgrade from the US$2.95 billion that eMarketer forecast in its Q3 2015 report, and it attributed the decline partly to the rise of rival messaging apps, such as Instagram and Snapchat, that appeal to younger users.
Data sourced from SMG, Twitter, eMarketer; additional content by Warc staff
---