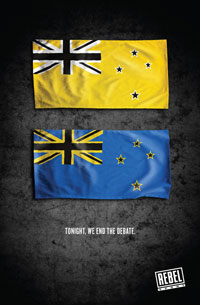 Ogilvy & Mather has won July's Newspaper Ad of the Month award with another of their Rebel Sport National Pride ads.
Judges Rob Longuet-Higgins (Barnes, Catmur & Friends) and Peter Wujkowski (Geometry Global) agreed it "immediately stood out on the judging table with its strong visual lead idea", but its success was ultimately because "it was topical on two fronts".
As there was no winner last month, Ogilvy receive the jackpotted prize of $500.
Entries are also closing soon for the 2015 Newspaper Advertising awards. As well as the $10,000 cash prize for the 2015 Ad of the Year, there are six other categories – best topical, best digital, best craft (art), best craft (copy), best media thinking and best news brand campaign.
Established in 2005, this is the 10-year anniversary of the annual Newspaper Advertising Awards. Last year's $10,000 winner was DDB for a VW ad.
This year's judging panels include a number of leading creative and media directors, along with international judge Colin Jeffery from David & Goliath LA.

CREDITS
Agency: Ogilvy & Mather
Client: Rebel Sport
Creative Director: Rupert Hancock
Creative Group Head CW: Richard Loseby
Creative Group Head AD: Martin Hermans
---