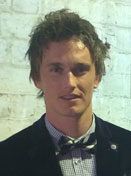 Tim Richardson of media company VeNA (offices in Auckland, Singapore and Sydney) has become the first New Zealander to sit and pass the globally recognised IAB Digital Media Salesperson Certification exam.
"I feel privileged to be the first person in NZ to complete this, thanks to VeNA's approach of encouraging continual personal and professional development, and the support of IAB NZ who have recently introduced this certification here," Richardson said.
"The process was incredibly thorough and well managed from start to finish – from the application and study materials, the sales training course hosted by IAB NZ to provide the learning hours required to qualify to take the exam, to the exam itself."
The exam consists of 100 questions, and while they are multi-choice, require a deep understanding of the digital landscape, language, technology, standards, ethics and methodology used across the industry. Candidates have a total of hour 55 minutes to complete the exam.
"The exam was more difficult than I thought it would be," Richardson said. "However I wouldn't let that put anyone off. In an industry that is constantly changing, it has provided me with renewed confidence to now be at the forefront of global standards, concepts and language that stretch beyond what we currently work with in NZ. I definitely encourage other sales professionals to get involved."
IAB NZ ceo Adrian Pickstock said: "We are thrilled to have our first certified professional. Since we introduced the programme in May, we have had strong interest and uptake in the training courses to support the programme. There are a number of other candidates nearing the exam stage."
The purpose of the Certification Programme is to establish a standardised benchmark for digital advertising professionals. The programme helps individuals and companies accelerate their growth in digital advertising, raise the standards and perception of our industry and provide a foundation for career advancement.
Created by industry subject matter experts and a leading test development company, the assessment-based qualification is managed by an independent certification commission. This differs from the many certificates available in the market which can be gained from simply attending a course rather than passing a controlled exam.
"We offer two IAB professional certifications in New Zealand – the Digital Media Sales Certification, and the Digital Ad Operations Certification," Pickstock said.
---