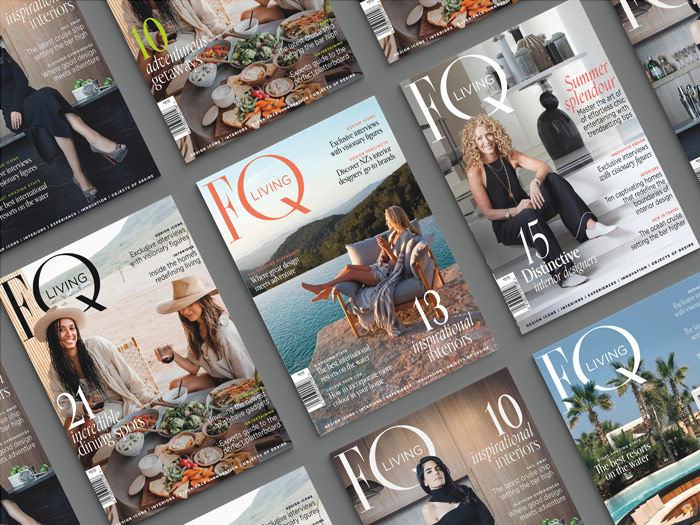 AUCKLAND, Wednesday: Westmere-based Via Media is introducing FQ Living, a stand-alone extension of its well-regarded Fashion Quarterly brand.
Editorial director Nat Davis said: "Building on Fashion Quarterly magazine's substantial 59% market share1, FQ Living is a premium media brand that will focus on lifestyle and interior design, the art of living beautifully, and the intersection of style and functionality.
"With content pillars highlighting trends in home decor, furniture, and design innovation featuring the latest product launches, along with coverage of experiences such as idyllic travel destinations to inspiring culinary experiences and luxury consumer products, FQ Living is here to inspire."
"FQ Living will include digital channels, experiential content, and a bi-annual premium print edition.
"The print magazine will be distributed nationwide, as well as through an innovative distribution model with complimentary copies available through Air New Zealand premium lounges across Oceania, as well as select interior designers, hotel chains, and industry outlets."
Nat Davis brings publishing and marketing experience, including roles at Home magazine, Australian House & Garden, Your Home & Garden, Simply You, Simply You Living, Homes to Love, and Archipro. 
"FQ Living will combine editorial and commercial leadership under Nat's guidance, working closely with designers and brands to stay current with industry trends," Davis said.
"We've recognized a demand for a specialised lifestyle title within the FQ brand portfolio, and we see FQ Living as a natural extension of Fashion Quarterly.
---
"There's a demand for a specialised lifestyle title within the FQ brand portfolio, and we see FQ Living as a natural extension of Fashion Quarterly,"
---
"From home interiors to innovative products, travel destinations to culinary experiences, FQ Living encourages embracing a lifestyle where design enhances everyday living.
"Our new collaborative publishing model, which sees us working closely with NZ's leading design professionals, ensures FQ Living is the ultimate authority for all things design, from interiors to product innovation, experiences, travel, and technology — it's life through a design-centric lens.
"Team this local industry insight with our audience insights, gathered through our FQ Insights quarterly research, we have a powerful formula to create bespoke campaigns driven by evidence-based data and market trends. For example, we can tell clients who will be travelling, where they will go, how they will get there, and what phone they will be using to take their travel snaps."
About FQ Insights
FQ Insights is an audience research platform that provides real-time quantitative and qualitative data to guide strategic decisions of FQ's brands and clients. Data gathered via the platform is collated into the quarterly FQ Insights Industry Report, a comprehensive 92-page snapshot of brand preferences, purchase behaviours, and lifestyle choices across FQ's expansive audience reach.
About FQ Living
FQ Living follows a digital-first publishing strategy, complemented by a bi-annual print publication for summer and winter, which provides brand partners with consistent print visibility aligned with seasonal trends. As an extension of the FQ content pillars, FQ Living will intertwine lifestyle content into the FQ digital channels with a combined reach of 597,6862 and an EDM database of 28,000+. It will have its own website interface on the FQ site under fqliving.co.nz, which launches in October.
The bi-annual print edition of FQ Living is available nationwide from 27 November. Special introductory rates for the launch issue of FQ Living are currently available.
About Via Media
Via Media delivers content and media solutions to a diverse range of audiences that we communicate with via a portfolio of niche-interest brands, including market-leader FQ.
---