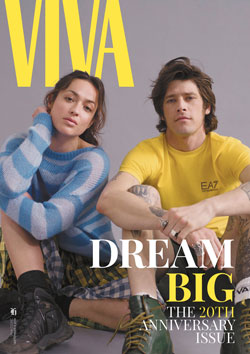 AUCKLAND, Today: After 20 years, Viva has unveiled a new-look logo, magazine design and website to bring to life "the ever-evolving essence of Viva".
"Viva's content – both in our weekly Herald magazine insert, and the website – has continued to evolve to meet the needs of its audience and this revitalised look helps bring to life all that Viva is," says ed Amanda Linnell.
"The Viva brand has evolved over the years but its core has remained – to inspire New Zealanders to embrace the good things in life. Viva's 20-year premium standing in the industry and its ability to deliver a unique and exclusive view is what cements the magazine as one of New Zealand's favourites.
"More than a fashion brand, Viva also brings you the best fashion, food, design, beauty and travel. The new look celebrates what Viva embodies while continuing to keep readers on the cusp of emerging trends, upcoming designers and must-try spots."
---
"Complementing the launch is a special collector's glossy edition of the magazine, in the Herald today."
---
Linnell says she knows how important it is to keep evolving and leading positive change. "Our new look is elegant, intelligent and modern, capturing what Viva stands for today," she said.
"Inside the magazine and across our website we will be rolling out design changes, new columns and new writers. The world we live in is ever-changing and as a brand we pride ourselves on capturing that. Viva is about greater diversity, celebrating individualism and equality.
"Here's to the next 20 years!"
Viva recently celebrated its 20th birthday with 300 guests at the Auckland War Memorial Museum in association with the launch of the Huawei Nova3 Series. From fashion designers who gained their big break in Viva, to those who have continued to feature in its pages over the years, the celebration was an occasion to remember.
Gloss edition out today
Complementing the launch is a special collector's edition of the Viva magazine. The special gloss edition is available in the New Zealand Herald today.
---