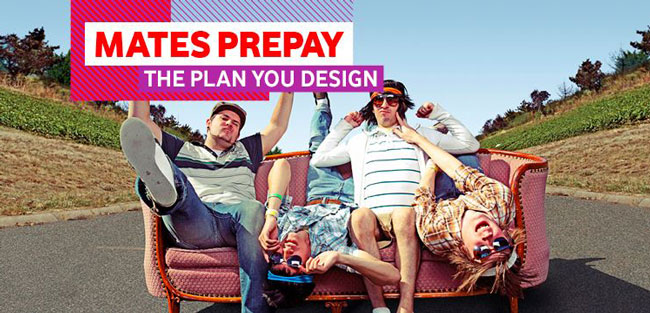 With help from agency FCB, Vodafone is about to test the friendship of a young kiwi with a promotion pushing the telco's new Prepaid mobile plans aimed at under 25s.
Vodafone Mates has been launched today with the company's head of marketing Delina Shields saying it's going to deliver the innovation, freedom and flexibility that young customers are searching for – so they can stay in touch with their mates, their way.
Shields says structured Prepay plans, with a set amount of minutes, data and TXTs, were extremely popular but don't always fit the needs of young kiwis, with their growing appetite for data over minutes and TXTs.
"Our customers are looking for much more flexibility in Prepay, so they can design a plan that suits them. Vodafone Mates is all about delivering that flexibility, and we think young kiwis are going to love it."
From today Vodafone Mates will give Prepay customers more flexibility, allowing them to dial up or down on their data, TXTs and minutes to suit their needs. There are more than 160 plan combinations to choose from – all from the My Vodafone app.
Vodafone Mates will also offer a range of rewards and experiences, including a whopping 500MB data bonus every time an under 25 customer tops up $20 or more on Vodafone Mates Prepay. That equals up to 5,000 snaps, or 2,000 Instagram uploads or 250 minutes of WhatsApp calling.
The centrepiece of the promotion will be a search to find New Zealand's Best, Best Mate.
Auckland agency FCB says they're after one young Kiwi to maroon themselves on a barge moored in the Waitemata Harbour for a week in this cold, windy August so three of their mates can party it up on a tropical island in Fiji.
"Vodafone Mates is all about helping kiwis connect with their closest mates and we're going to have a lot of fun bringing that to life with our search for New Zealand's Best, Best Mate."
---