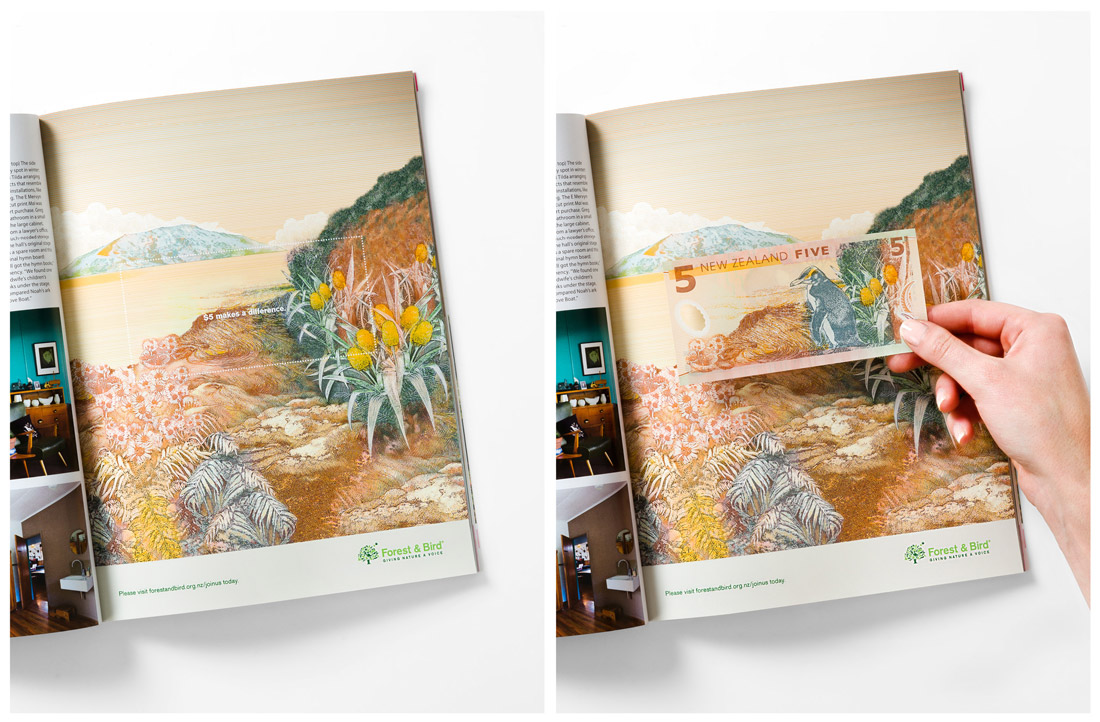 Ogilvy & Mather has created a new print campaign for Forest & Bird that swings on the power of a humble $5 bill. It will run in The Listener, and other selected magazines.
"Forest & Bird protects all of New Zealand's native species and wild places, but they receive no government funding," says O&M ECD Angus Hennah.
"To continue doing the work they do, they desperately needed new members, and the least expensive membership option is $5 a month.
"With that in mind, we wanted people to discover for themselves how a mere $5 could make a huge difference – it can help put a bird back in its natural environment.
"It's an idea that has you reaching into your wallet."
CREDITS
Agency: Ogilvy & Mather New Zealand
Client: Forest & Bird
Client Contact: Phil Bilbrough
Executive Creative Director: Angus Hennah
Creative Director: Chris Childerhouse
Copywriter: Chris Childerhouse
Senior Art Director: Martin Hermans
Art Director: Jordan Dale
Group Account Director: Christina Mossaidis
Account Manager: Alisha Iyer & Mia Freeman
Illustrator: Stephen Fuller
Studio: Gemma Whyte
Retoucher: Jamie Wright
---