Whittaker's is once again New Zealand's most loved brand, according to the latest Colmar Brunton survey – and while the All Blacks have jumped 7% to be the country's second most loved brand for 2015, Whittaker's comfortably holds on to the top spot for the fourth year in a row.
Tip Top, Air New Zealand and Pineapple Lumps round out the top five most loved brands.
Colmar Brunton ceo Jacqueline Farman says that around the world brands that are well loved grow faster for longer, and New Zealand is no exception.
"Kiwis were clear in the survey about what qualities make brands loveable, and Whittaker's consistently ticks all the boxes," she said. "New Zealanders want to support brands that reflect who we are, and what we value. Being Kiwi owned and operated, great value for money, trustworthy and likeable are key."
"Whittaker's delivers on all those qualities, adding further value by constantly innovating in partnership with other iconic Kiwi brands like Tip Top and L&P. Their combination of brand love and innovation is a sure-fire recipe for exceptional brand strength and growth.  Whittaker's has been a clear winner for the last four years by some distance, and is looking pretty much unbeatable at the moment.
"But if the All Blacks do win the World Cup, who knows?"
Whittaker's topped the survey for both males and females and in the 18-29 and 50+ age categories, however it was pipped by the All Blacks in the 30-49 age group.
---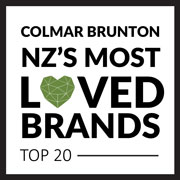 Farman says three of the biggest movers in the survey are all retailers, reflecting a return to value-led strategy in this sector. Mitre 10, New World and The Warehouse also featured in the top 10 companies for fair value in this year's Colmar Brunton New Zealand Corporate Reputation Index.
"Expectations of fair value from Kiwi companies are especially tough, but it's not just about the price, it's about the whole package: range, location, convenience, a great shopping experience and a clear purpose that makes you different.
"Here are three retail brands doing that well, and building strong reputations as a result. And reputation matters a lot – not only do people feel and speak more positively about brands and businesses with strong reputations, when it comes to the purchase decision, they will pay a premium for them."
She says buying New Zealand-made is important for Kiwis, especially when buying food products, according to the survey.
"Fresh fruit and veges and dairy products are where it matters most to buy New Zealand-made, but we also make it a priority in other food categories such as frozen or tinned fruit and veges, and confectionery."
The top three reasons for choosing New Zealand made products are supporting the New Zealand economy (87%), supporting local producers (82%) and helping to keep more Kiwis in work (78%).
Colmar Brunton has developed a NZ's Most Loved Brands Top 20 love mark which will be offered to the all those brands that made the top 20 in the survey.
---