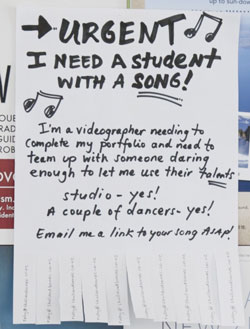 ANZ has launched its new Student Banking campaign, Fortune Favours the Brave, with some serious fanfare thanks to the help of globally renowned choreographer Parris Goebel and Whybin\TBWA NZ.
Partnering with Goebel, ANZ and Whybin turned a first-year student's original song into a music video "fit for the likes of J-Lo and Justin Bieber".
The campaign began with Auckland tertiary student Sam Verlinden answering a small unassuming ad from a fellow student, looking for someone with an original song.
"I really wasn't expecting anything other than the chance to work with other students wanting to put themselves out there and give things a try," Verlinden says.
What he found was the opportunity of a lifetime, a crew of the world's best dancers ready to feature in his very own music video.
"We set out to link the ANZ brand with the complex culture of first-year students," said Whybin\TBWA ECD Christy Peacock. "Once we landed on the emotional platform of Fortune Favours the Brave, we pulled in this cultural icon [Goebel] to produce engaging content that captures the enterprising spirit of all tertiary students.
"We hope this conversation will keep students engaged for some time to come."
ANZ Head of brand, retail and business marketing Matthew Pickeringsaid: "Sam's a great example of a student willing to put himself into the path of opportunity. Partnering with Parris Goebel and her talented team was a terrific way to showcase where an opportunity can take you.
"Students are at a crucial stage in their lives, when decisions can define their future. ANZ Student Banking gives students the tools they need to get a head start on university life."

CREDITS
Client: ANZ
Campaign Title: Fortune Favours the Brave
Head of Brand, Retail and Business Marketing: Matthew Pickering
Senior Marketing Manager: Darryn Gordon
Marketing Manager: Carmelle Anderson
Creative Agency: Whybin\TBWA Auckland
ECD: Christy Peacock
CD: Karen Maurice O'Leary & Tim Huse
Creatives: Kirsty Hitchcock & Priya Ratan
GAD: Maike Blackman
Account Director: Kate Gilmour
Senior Planner: David Mcindoe
Public Relations: Eleven
Production Company: Skull and Bones
Media Agency: Spark PHD
---