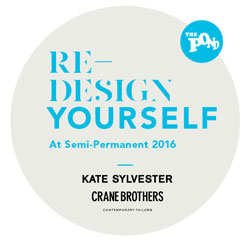 You could walk away from this year's Semi-Permanent a lot smarter. The Pond, in collaboration with Crane Brothers and Kate Sylvester, are giving away two $1500 fashion vouchers at the event. That's one for the guys and one for the girls. So make sure you enter while you're there. 
Learn more about the latest directions in digital and design, gain an insight into industry trends, and maybe walk away with a new aesthetic of your own!
The Pond are committed to representing New Zealand's best creative talent, and keeping up with demand for emerging skills. Because we want New Zealand's creative output – and the people doing it – looking top notch.
See you at Semi-Permanent 2016 for your chance to win a new aesthetic of your own!
---