The interactive Santa pages created by Ponsonby digital agency Method for the New Zealand Post website – where children can make and send a digital postcard to Santa – is proving a real hit with kids (and adults).
Every year New Zealand Post receives letters and online messages from children with their Christmas wish lists to deliver to Santa.
"Sitting down and writing a letter to Santa and then putting it in the post is a Christmas tradition for many families," says NZ Post spokesperson Tina Morgan.
"Messages can be sent to Santa online too, and this year we've set up a new interactive website for kids to create and decorate their own digital postcard for Santa."
---
Launched a few weeks ago, the site's already had over 5000 postcards created. The campaign is being promoted via social media and using social influencers.
Method wanted to retain the magic of Christmas and give families something they could do together.
The site lets kids of all ages customise their postcard by dragging and dropping items onto a Christmas themed scene. Kids then write a personalised message to Santa on the back before telling him whether they've been naughty or nice and what present they'd like to see under the tree.
"Whether you're writing a traditional letter or sending a digital postcard, remember to include your name, address and age," says Tina Morgan. "Write to Santa and see what you get back!"
No stamp required!
Or if they want to write in to Santa, the address (no stamp required) is:
---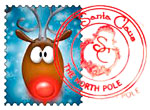 Santa Claus
Santa's Workshop
North Pole 0001
Letters and digital postcards need to be sent in by 4 December to receive a personalised response in the mail from Santa.

CREDITS
Client: NZ Post
Client Contact: Kimberley Waters, Sharon Moynagh
Agency: Method
CD: Eugene Eastlake
Art Director: Royce Reyes
Designer: Nick Peek
Front end engineer: Danillo Castilho
Back end engineer: Evgenii Starodedov
Account Director: Sam Ramlu
Senior Account Manager: Rhian Bedford-Palmer
---