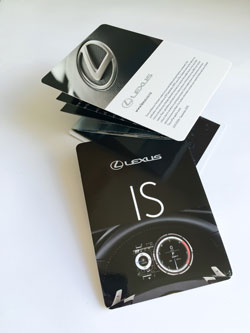 Axis sponsor Z Card picked up two Golds at the Pride in Print Awards for its Lexus IS, 10 column Z-Card Pocketmedia solution.
One Gold came in the Promotional Print Product category, and the second in the Speciality Products section for the finishing work.
Z-Card pocket media solutions is a worldwide patented product, represented in NZ by media marketing solutions company Live Wire Media. "Credit has to go to the team at Multimail for their work with this promotional piece for Lexus NZ to showcase their new contemporary IS range of cars," said Live Wire's Stuart Thompson.
The other big winner on the night was NZME, which won five Gold medals and nine Highly Commended certificates, and was  named PrintNZ Training Company of the Year.
The Golds were earned for production of the Central Leader, BoP Times, New Zealand Herald, Western Leader and The Weekend Sun in the the Publications/Newspapers sub-category.