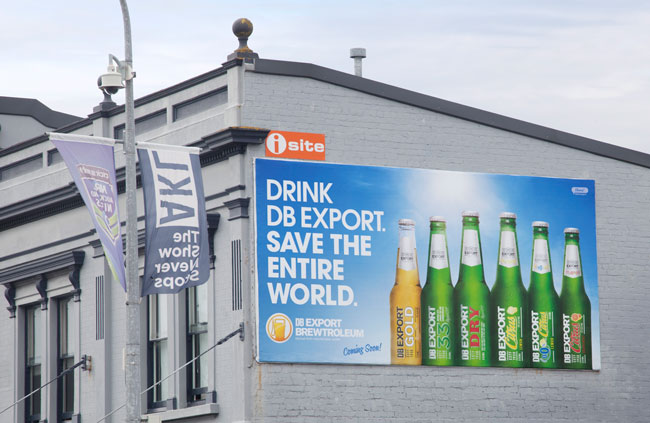 Colenso BBDO has won the Outdoor Grand Prix overnight in Cannes, capping a big 24 hours for New Zealand that included three Outdoor Gold Lions, five Silvers and five Bronzes.
Unsurprisingly, Colenso's GP was for DB Export Brewtroleum, already one of the stars at this year's festival.
"Brewtroleum proved that outdoor has no boundaries," said jury president Ricardo John (JWT Brazil chief creative officer).
"To make gas out of beer? That's unbelievable! It proves that agencies are going deeper and solving clients' business problems with creativity."
Colenso also won two Gold Lions and a Bronze. Y&R won a Gold, four Silver and a Bronze. DDB NZ scored a Silver Lion plus a Bronze and FCB picked up two Bronzes.

NZ SCORECARD
Grand Prix
Colenso BBDO, DB Export Brewtroleum
Gold Lions
Y&R, Jaguar Actual Reality
Colenso BBDO, DB Export Brewtroleum (x2)
Silver Lions
Y&R, Burger King McWhopper – Peace Dove, Peace Fingers, Olive Branch (campaign)
Y&R, Burger King McWhopper (x2)
Y&R, Jaguar Actual Reality
DDB, Sky TV Unforgotten Soldiers
Bronze Lions
FCB, Paper Plus Read Better Stories – Curry, Boots, Gym (campaign)
FCB,Paper Plus Read Better Stories – Boots, Gym (campaign)
Y&R, Burger King McWhopper – Big Mac, Whopper, McWhopper (campaign)
Colenso BBDO, Anchor Milk X-Ray Casts
DDB Sky TV Unforgotten Soldiers
Read NZ's first Grand Prix (for Y&R's NcWhopper) coverage here
---