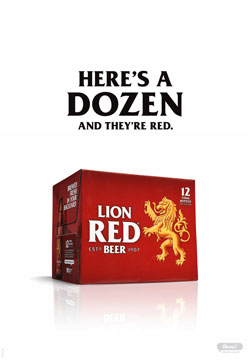 February's Newspaper Ad of the Month has been won by DDB for their Lion Red Valentine's Day Here's a Dozen.
"It's simple and only Lion Red could say that line," said judge Damien Knowles. "It's a funny reminder to the target audience to think about their other halves on Valentine's Day without explicitly saying so.
"The ad clearly leapt out visually from the rest using white space and a short bold headline to make readers stop and think about Valentines. A dozen red roses and a dozen reds was such a sitter and it was great that they did it. "
DDB's creative team have won $250.
The judges were Damien Knowles (True), Kiran Strickland (DDB) and Jian Xin Tay (DDB) – the latter two abstained from judging.
Special Mention went to Barnes Catmur & Friends for their Tower Insurance Valentine Insurance ad (see it here).  The judges said: "The ad gives the insurance company a heart."
Ad of the Month accepts entry from newspaper digital ads, as well as newspaper print ads. News Works' Ad of the Month is open to any ad that has appeared on a New Zealand newspaper website or app, or in any print edition. To enter digital or print ads, go to www.newsworksnz.co.nz.
Ad of the Month for March 2016 will be judged in early April 2016. Entries are open now, on www.newsworksnz.co.nz.
Every monthly winner from 1 July 2015 to 31 June 2016 will automatically be entered into the $10,000 Newspaper Ad of the Year.

CREDITS
Agency: DDB Group
Chief Creative Officer: Damon Stapleton
Executive Creative Director: Shane Bradnick
Creative Director: Ben Pegler
Creatives: Liz Richards & Nick Dellabarca
Senior Account Director: Jenny Travers
Account Executive: Michael Doolan
Agency Producer: Andy Robilliard
Client: Lion Red
Category Marketing Director Beer: Ben Wheeler
---