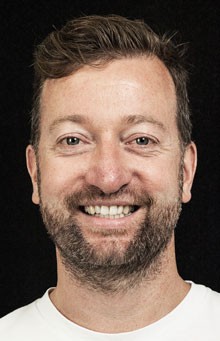 Saatchi & Saatchi ECDs Corey Chalmers & Guy Roberts this morning announced the appointment of Terry Williams-Willcock as Digital Creative Director. He will lead a 22-strong digital department of coders, producers, UX designers and developers, alongside director of digital production Lorraine Guerin.
"One of our first initiatives as new ECDs was to find the right kind of leadership for our digital offering," says Chalmers. "Terry's the perfect creative mind for the type of work we're developing these days, whether it be digital experiences with depth, innovative storytelling, or genuinely useful apps.
"He's a rare breed that can balance digital complexities with broader strategic thinking. He sees past a lot of surface digi-fizz solutions and offers much more substance of thought and care for real business problems."
Guy Roberts said: "With clients like ASB already innovating with us on digital initiatives such as Like Loan; the NZ Defence Force using mobile apps like Force-Fit for recruitment and some more exciting mobile work coming up with DB, we're really proud of the integrated work coming out of the agency. We're looking forward to partnering with Terry to help us take the work to the next level and deliver even more potent, effective ideas for our clients in the digital space."
Williams-Willcock joins Saatchi & Saatchi on February 2 from the Clemenger network, where he has been for the last 10 years. Originally based in Wellington, he spearheaded the digital offering at Aim Proximity for Telecom, TVNZ, Toyota, the RNZAF, IAG, Vodafone, and NZ Post.
In 2011 he moved to Auckland to drive digital creative for the Colenso/Proximity companies, where he worked on award-winning campaigns Westpac Impulse Saver, BNZ Be Good With Money, Emotion Scan and Monteith's Meat Pack Hunt for DB Breweries.
He started out his career as an interactive designer in the UK, including stints at Arawak Interactive Marketing collaborating with Saatchi & Saatchi London, BBH, Craik Jones, and working directly with Sony Europe, Microsoft and BP on large-scale digital marketing solutions.
"I am bloody excited about the opportunity to help lead the creative digital future for Saatchi & Saatchi NZ, working along side two of New Zealand's most amazing creatives, Gus and Corey," Williams-Willcock said. "There's a really strong culture there, led by Nicky Bell. I feel Saatchis are on a roll at the moment with a load of hugely talented people and can't wait to be part of it."
---